IMPORTANT DATES
---
Coffee with the principal Thursday 8/11/22 at 7:45 A.M.
School Starts @ 7:30 A.M. Students may enter campus at 7:15 - Don't be late!
Dismissal is at 2:00 P.M.
Every Wednesday is early release at 12:00 P.M.
Curriculum Night is September 1 from 5 to 6:30 P.M.
Mesa Public Schools district calendar
PRINCIPAL'S MESSAGE

---
Hello Adams Tigers!
I am so excited to see everyone's faces back on campus!!! What a wonderful start to the 22-23
school year! I hope you have had a chance to either check out our Facebook or Instagram accounts to get to know the wonderful Adams staff. The amazing Ms. Short is constantly sending school updates to all of our followers so this is a great way to get to know more about what is happening all over Adams. Another great way to get to be involved with what we are doing at Adams is to join our Parent Teacher Organization, if you're interested, please contact Ms. Simon or Ms. Estrada, they would love to have you on the PTO. Welcome Back Tigers!

Thank you as always for your support!
Principal Montez
A NOTE FROM YOUR ASSISTANT PRINCIPAL

---
Hello Adams Community,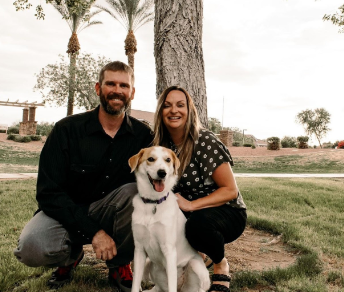 My name is Kelsey Christofferson, and I am so excited to join Adams as your Assistant Principal this year! I previously taught grades 3rd-6th and served as a Title I Specialist. I am looking forward to working alongside Principal Montez, our staff, students, and families as we ensure the success of all our Tigers!
I love reading, sports, and spending time with my family. Connecting with students and building relationships with them brings me such joy, so I can't wait to meet your scholar!
I'm looking forward to meeting each of you. Please know my door is open for any questions, concerns, or just to say hello. It's going to be an amazing year, and I look forward to partnering with each of you!
A.P. Christofferson
TITLE I NEWS

---
Lunches
The USDA made it possible for school nutrition programs to serve all students free breakfast and lunch through waivers. Congress did not extend these waivers for the upcoming school year, so we will go back to regularly priced breakfast and lunch. Free and reduced meals are available to those families that qualify based on the Federal Eligibility Income Guidelines released by the USDA each school year. Meal applications are available online; paper meal applications are available at the school office. To fill out an online application, please visit our Food & Nutrition website.
If you send your child to school with a lunch from home, please help our cafeteria staff by making sure your child knows how to open the items in their lunch. If they haven't quite figured out how to for instance poke the straw into the Capri-Sun please help them learn at home or send them with something else - or they can always get a milk at school instead - a water bottle is even better this time of year
UPDATED SECURITY POLICY
---
Our number one priority is for students to be physically and emotionally safe. Please review the updated security policies for Mesa Public Schools and contact the office with any questions or concerns.
All visitors must follow Governing Board and State Statues when visiting campus for any reason.
All gates and classroom doors will be closed and locked at all times.
Staff must be wearing their MPS badge at all times.
Parents/guardians will need an appointment to visit their child's classroom.
Parents/guardians will not be allowed to walk students to the classroom/playground in order to keep all kids safe.
Visitors must check into the front office.
SOCIAL-EMOTIONAL LEARNING

---
Adams Elementary will be utilizing Zones of Regulation as a way to help students self-regulate their emotions. This includes exploring tools and strategies for mindfulness, sensory integration, movement, thinking strategies, wellness, and healthy connection with others. The Zones of Regulation provides a common language and compassionate framework to support positive mental health and skill development for all. Please contact the Office with any questions or concerns as we work together to ensure the physical and emotional health of all students.